"Open wide."
If you've ever seen scenes in movies or shows describing what dentists do, then you've probably heard that line. That's because teeth cleaning involves different steps, which can sometimes seem scary and stressful. In this article, we'll go over what to expect when you visit a dentist's office for a dental cleaning. This article will help you understand what to expect so that you're not as afraid of seeing a dentist. Remember, dentists are here to help you in your journey to healthy and beautiful teeth!
You're in Safe Hands
In a previous article, we introduced our dental hygienist Olivia. In most dental offices including our own, dental hygienists like Olivia tend to do the teeth cleaning. That's because dental hygienists are trained in:
Promoting dental hygiene

Regularly cleaning your teeth

Help you with recognizing diseases before they spread or get worse
These are just some of the things that dental hygienists can do. Overall, because of their extensive training and schooling, dental hygienists make up an important part of a dental team.
When and How Often To Visit a Dentist for Dental Cleaning
Because teeth and oral hygiene differ from person-to-person, the American Dental Association (ADA) recommends visiting your dentist frequently. When you visit your dentist, they should be able to suggest the number of cleanings that you need annually based on your oral health. For example, an individual who brushes and flosses their teeth a few times per day will have different needs from a person who only brushes their teeth once a day and who doesn't floss regularly.
So, once your dentist gauges your oral health, they then might recommend how many times your dental hygienist should clean your teeth for you.
Types of Dental Cleaning Procedures
There are different types of dental cleanings: gross debridement, prophylaxis cleaning, and scaling and root planing.
Gross Debridement
According to the ADA, debridement is the removal of tartar and plaque from the teeth. These two issues often make it difficult for a dentist to perform a full oral evaluation since there's so much covering the teeth.
Prophylaxis Cleaning
As with gross debridement, prophylaxis cleaning is also associated with the removal of plaque and tartar from the teeth. It's typically done every 6-months. Prophylaxis cleaning is usually recommended, according to the ADA, for patients who have prosthetic joints and those with heart conditions.
Scaling and Root Planning
Scaling and root planning also address plaque but unlike the other two procedures, this procedure tends to focus on addressing gum disease. For patients who have frequent gum issues (also called chronic periodontitis), this procedure is often recommended.
Because each type of cleaning is unique, your dental team will be the best judges of what type or types of cleaning you need. In this article, we focus on the basic procedures associated with teeth cleaning.
A Basic Cleaning Process
Now that you know some of the different types of teeth cleaning procedures, here are some basic methods that your dental office might use.
Teeth and gum examination.
Your dental office will often begin the process of teeth cleaning by first examining your teeth. Using different tools like a concave mirror, your dental hygienist will look out for things like plaque, tartar, and inflammation. As we mentioned in a previous article, inflamed gums might be a sign of a tooth infection or underlining bone loss.
Removing tartar and plaque
Using whatever method your dental team thinks is right for you, your dental hygienist will then begin the process by removing tartar or plaque from your teeth. Depending on the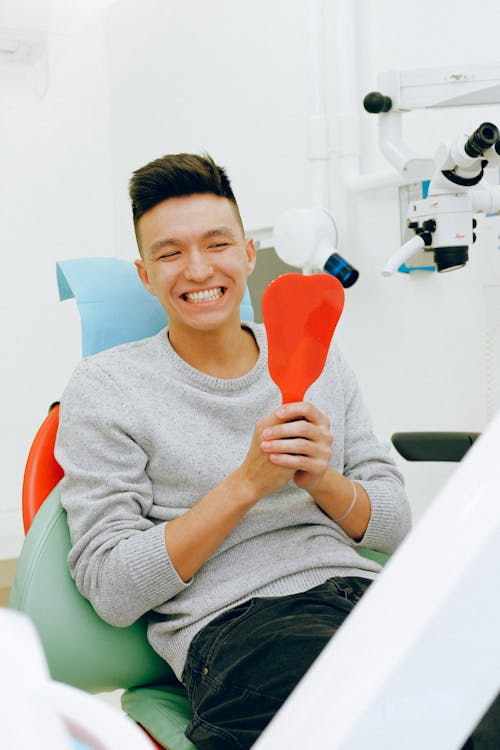 method, you might feel some scraping on your teeth and then water cleaning out the resulting debris.
Cleaning your teeth using prophylaxis paste and flossing
Prophylaxis paste is a type of toothpaste that has a gritty texture but is known for and used because of it's amazing cleaning properties.
During this step, your dental hygienist will also floss your teeth to make sure that they're all clean.
Full Rinse
Once your teeth have been brushed and flossed, your dental hygienist will then do a full rinse. This rinse will get rid of any remaining debris.
Using Fluoride Treatment
The final step in this process is using fluoride treatment. During this step, the dental hygienist will ask you to pick a flavor of fluoride. Using that flavored fluoride gel, the dental hygienist will then put this gel into a mouthpiece which you will wear for 60 seconds and then take out. This step helps protect your teeth until your next visit.
You've Had Teeth Cleaning, So Now What?
Now that you've had a dental cleaning, it's time to maintain that cleaning with good oral hygiene, frequent dental checkups, and proper nutrition (avoiding sugary and sticky foods). Good oral hygiene, as we've mentioned in many articles, includes brushing, flossing frequently and on a daily basis. It also involves eating more fruits and vegetables and cutting down on sugar.
As far as frequent dental checkups, we, at Bismarck Advanced Dental and Implants, believe that prevention is crucial to great dental health. Instead of waiting for things to happen, visit a dentist while you can.
What Makes Bismarck Advanced Dental and Implants Different
At our dental office, we have a well-trained and certified staff and a dental team. Our team includes dentists trained in different areas of dentistry. Our dentists are also leaders who are prominent in different dental organizations such as the American Dental Association and the American Academy of Implant Dentistry.
Our team also includes dental hygienists who have been trained to offer quality dental care. Our hygienists understand how to educate our patients on oral hygiene and will help you in your journey to healthy and beautiful teeth.
Additionally, we recognize that visiting the dentists can be anxiety-inducing and stressful, so we try to make the process enjoyable, safe, and effective.
Still not sure if you'd like to come in for a visit? Contact us and find out the benefits to having a great dental team helping you with your teeth!