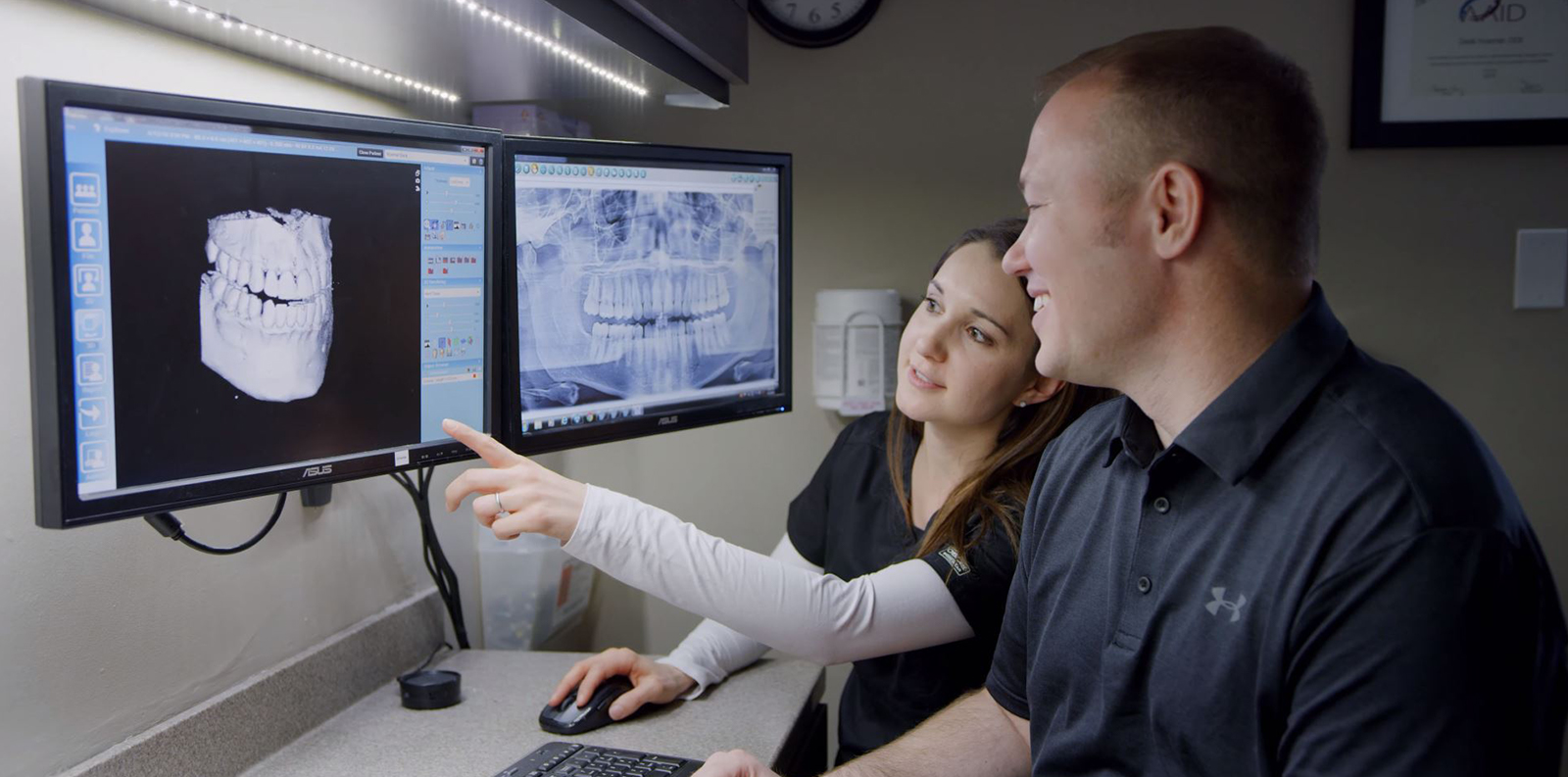 Why Choose Bismarck Advanced Dental & Implants
As soon as you walk through the front door of our friendly dental office, you will be greeted warmly by a member of our caring team. Your time and oral health really do matter to us, and we look forward to working with you to improve and maintain your family's health. We genuinely care about what we do and we will work hard to earn your trust and become your go-to team for all of your oral health needs. Please spend a few minutes learning more about our practice and our dental services. If you have any questions, or if you would like to schedule an appointment, please call us at 701-390-1920, or send us a message using the form on our contact page.
Learn More
Changing Your View of Dentistry
Get Answers

Our patient-first approach means you will get your questions answered, fully understand your options, and be in complete control of your treatment plan. We don't do anything unless you give us the thumbs up.

Overcome Anxiety

Everyone gets apprehensive about visiting the dentist, but our convenient options and in-office comforts will make you feel relaxed from the moment you contact our office.

Build Trust

Our approachable team strives to spend time getting to know your wants and needs. We do this in order to build a sincere rapport that leads to a lasting, trusting relationship.
Meet the Doctors
Dr. Derik Hoerner

Dr. Derik's overwhelming commitment to passion and excellence has led him to create Bismarck Advanced Dental and Implants. As a one-of-a-kind dental office in Bismarck that utilizes 3D dental implants and an onsite dental lab, we are able to create personalized dental restorations from dentures to crowns and veneers to implant restorations.

Learn More

Dr. Christopher Klym

Dr. Klym focuses on each and every clients' best interests and genuinely cares about their overall health. He tries to ensure that clients are comfortable and brings his unique passion to the job every day. He is particularly passionate about several facets of dentistry, including the use of technology, dental sleep medicine, and esthetic dentistry.

Learn More
Dental Implants
Dental Implants in North Dakota

We specialize in dental implants in North Dakota. Dental implants are considered an effective, long-lasting treatment for patients with missing teeth. Dental implants have a 98% success rate, making them one of our most sought-after treatments. We place both the dental implant and the post, which is something that most dental offices do not provide. Our goal is to make the dental implant convenient and successful for our patients.

Single Tooth Implants

Bismarck Advanced Dental and Implants offers single tooth implants for patients missing one or more teeth and creates the illusion of natural teeth. The implants are molded and made in our in-house lab and are customized to fit the patient's teeth color, shape, and size.

Multi-Tooth Implants

In addition to our many implants services, we offer multi-tooth dental implants capable of looking and functioning like natural teeth. These implants are ideal for patients missing more than one tooth and are seeking a solution with a natural appearance. These implants integrate the jawbone and help promote healthy gums and overall dental health.

All-On-4 Implants

Our All-On-4 implant procedure consists of a total of four implants placed in the gums and jaw bone for dentures. These implants are ideal for patients experiencing significant tooth loss. This method creates a natural, full arch smile restoration that is durable and permanent. Contact our Bismarck Advanced Dental and Implants office today to get started on your journey to a beautiful new smile.

Dentures and Partial Dentures

Bismarck Advanced Dental and Implants offers several restorative dental treatment options, such as dentures and partial dentures. Our goal is to help you once again have the ability to perform simple functions we often take for granted, such as eating, talking, smiling, and even laughing. We will work with you to determine the best option for your individual dental situation.

Fixed Dentures

Bismarck Advanced Dental and Implants offers fixed dentures in full and partial dentures. This option allows you to have a natural-looking, permanent solution to your tooth loss while also maintaining healthy gums and preventing bone loss.

Overdentures

Overdentures provide the perfect temporary solution for patients suffering from tooth loss. These dentures are held together by the gums as well as either the remaining natural teeth or implanted metal posts. Overdentures are ideal for patients looking for a cost-effective way to avoid the challenges of wearing a denture.

Sinus Augmentations

Our Bismarck dental office specializes in dental care and implants using the latest technology and methods to ensure the highest level of safety and quality for our patients. For patients who lack the bone strength needed for dental implants, we offer sinus augmentations to add more support and make for a successful implant experience for every patient.

Bone Grafting

Jaw bone loss is a very common problem that affects many of the patients we see in our office. Bone grafting encourages new bone growth and the stability needed for additional dental work. This procedure replaces the missing bone tissue so other procedures are made possible, such as dental implants and sinus augmentation.

In-House Lab

At Bismarck Advanced Dental and Implants, we even have our own in-house lab where our experienced team of dental technicians and ceramists are able to make your dental work experience customized for every patient's needs. In our lab we are able to custom make dentures, implants, crowns, bridges and much more. We aim to provide properly fitted implants that are comfortable and effective. Our in-house lab reduces wait times for patients and cuts out the middle-man for adjustments and production.
Dental Services
Family Dentistry

At Bismarck Advanced Dental and Implants, we provide comprehensive dental care for our patients. We offer family dental care services designed to treat patients of all ages. We provide a large variety of dental services including the diagnosis, treatment, and maintenance of conditions affecting the teeth, gums, and jaw. We offer preventative care services including fluoride treatments and dental sealants to aid in protecting younger patient's teeth. We work with our patients to ensure they are practicing healthy oral habits to keep their teeth and gums healthy. Regular visits to our North Dakota dental office can aid in reducing invasive and expensive dental treatments later in life.

Preventative Dentistry

Failure to care for your teeth and gums properly can lead to expensive and painful dental treatments down the road. Bismarck Advanced Dental and Implants is focused on preventative dentistry services to help you avoid these treatments. Our preventative dentistry services are focused on teaching patients at-home dental hygiene habits they can implement to reduce dental diseases. We also provide in-office dental treatments to reduce the risk of dental cavities and gum disease. Routine dental cleanings and examinations will go a long way in reducing plaque and bacteria and protecting your smile.

Cosmetic Dentistry / Restoration

When you have healthy teeth, it's easy to take things like eating, talking, smiling, and even laughing for granted. However, if you've lost healthy teeth, you know how embarrassing and uncomfortable these simple tasks can become. With restorative treatments at Bismarck Advanced Dental and Implants, these tasks can become easier again. We will work with you to determine the best of several restorative dental treatment options, from dentures and dental implants to crowns, bridges and veneers; we can help!

Sedation Dentistry

Kids aren't the only ones who get nervous about dental treatment. Many adults experience dental anxiety as well. This is completely normal! We recognize that many patients appreciate having sedation options so that they can more easily relax during treatment. We encourage you to share your concerns with us so that we can accommodate you. We provide Nitrous Oxide and oral conscious sedation services to ensure your treatment will be as stress-free and pain-free as possible.

Emergency Dentist

At Bismarck Advanced Dental and Implants, we understand the unpredictability of tooth injuries and emergencies and are here to help. We offer same day emergency appointments for patients suffering from severe acute tooth and jaw pain, tooth and jaw injuries, abscessed teeth, broken fillings, painful crowns and much more. If you have suffered a dental emergency and need medical attention, we encourage you to book your appointment now and we will get you in to see one of our dentists as soon as possible.

Tooth Extractions / Wisdom Teeth Removal

Sometimes conditions in your mouth, ranging from infection and pain, to traumatic injury, to advanced tooth decay, make tooth extraction (tooth removal) the best option. If you need help with a tooth extraction or wisdom teeth removal, we can help. Please contact us to discuss your particular situation.

Dental Crowns

Dental crowns, sometimes called caps, cover teeth to restore them to their appropriate shape and size after large fillings, fractures, or weakening forces, such as intense grinding. In all these cases, crowns not only cover teeth but provide added support. They can also be used to attach bridges, cover dental implants, restore seriously discolored or misshapen teeth, and even as a preventive measure to protect a tooth in danger of breaking.

Crowns can be made of all-porcelain (ceramic) material, porcelain fused to metal, gold alloys, or base metal alloys. Since they mimic the appearance of natural teeth, our patients tend to prefer porcelain crowns. We create our crowns in-house to make it convenient and easy for our patients.

Root Canals

The inside of your tooth contains soft tissue with nerves and blood vessels running from the root to the crown. A crack, deep cavity, or other injuries to the tooth can cause the nerve to become damaged or diseased, allowing bacteria to enter the tooth and kill the living tissue. Without treatment, the resulting infection can cause pain, swelling and abscesses, loss of the diseased tooth, and eventually damage to the surrounding bone. With endodontic treatment, also called root canal therapy, we carefully remove the diseased tissue and nerve from the tooth and gently clean and seal the root canal to protect it from bacteria. If necessary, medication or an antibiotic can also be used to control the spread of bacteria and stop infection. Finally, a crown is placed over the reshaped tooth to restore and strengthen it.

Relief from the pain of an infected tooth is an immediate advantage to root canal therapy. Long-term benefits include saving your natural tooth and avoiding damage to the surrounding bone. Additionally, with continued dental care and good oral hygiene after root canal therapy, the restored tooth should last you many years.

Invisalign Treatment

At Bismarck Advanced Dental and Implants, we make teeth alignment as easy and comfortable as possible. With Invisalign treatment, we assist patients in reaching their goal of a perfect smile. We know how painful and unattractive braces can be. Invisalign uses clear, temporary mouth pieces to effectively straighten teeth with no restrictions. The aligner is removable and is easy for patients to maintain and clean. Invisalign treatment is not right for everyone but has shown more success in patients with mild to moderate orthodontic problems. Make an appointment with us today to see if Invisalign is right for you and get started towards straighter teeth.

Periodontal Care

According to the American Academy of Periodontology, half of American adults have gum disease. Gum disease ranges from gingivitis to the various forms and stages of periodontitis. The prevalence of gum disease increases with age because teeth wear down and become more sensitive as time passes, gums naturally recede, and medications can affect oral health. If your gums feel tender or sore, or if they look red and swollen, you may have gum disease. Other warning signs include bleeding and/or receding gums, pain or sensitivity in your teeth (and even loose teeth caused by weakening gum fibers or bone loss), and persistent bad breath. If left untreated, gum disease can lead to tooth loss as well as various serious health problems.
Visit Our Blog
Protecting Your Veneers: 5 Ways to Care for This Major Dental Investment
A dazzling smile can be a major investment, and if you've decided to get veneers to enhance your teeth, you've made a significant decision for your dental health and appearance. While veneers are a great way to improve your smile, they require appropriate care to ensure your investment is well protected. But what can you do to ensure you're protecting your veneers?...
Read More